Rooibos Tea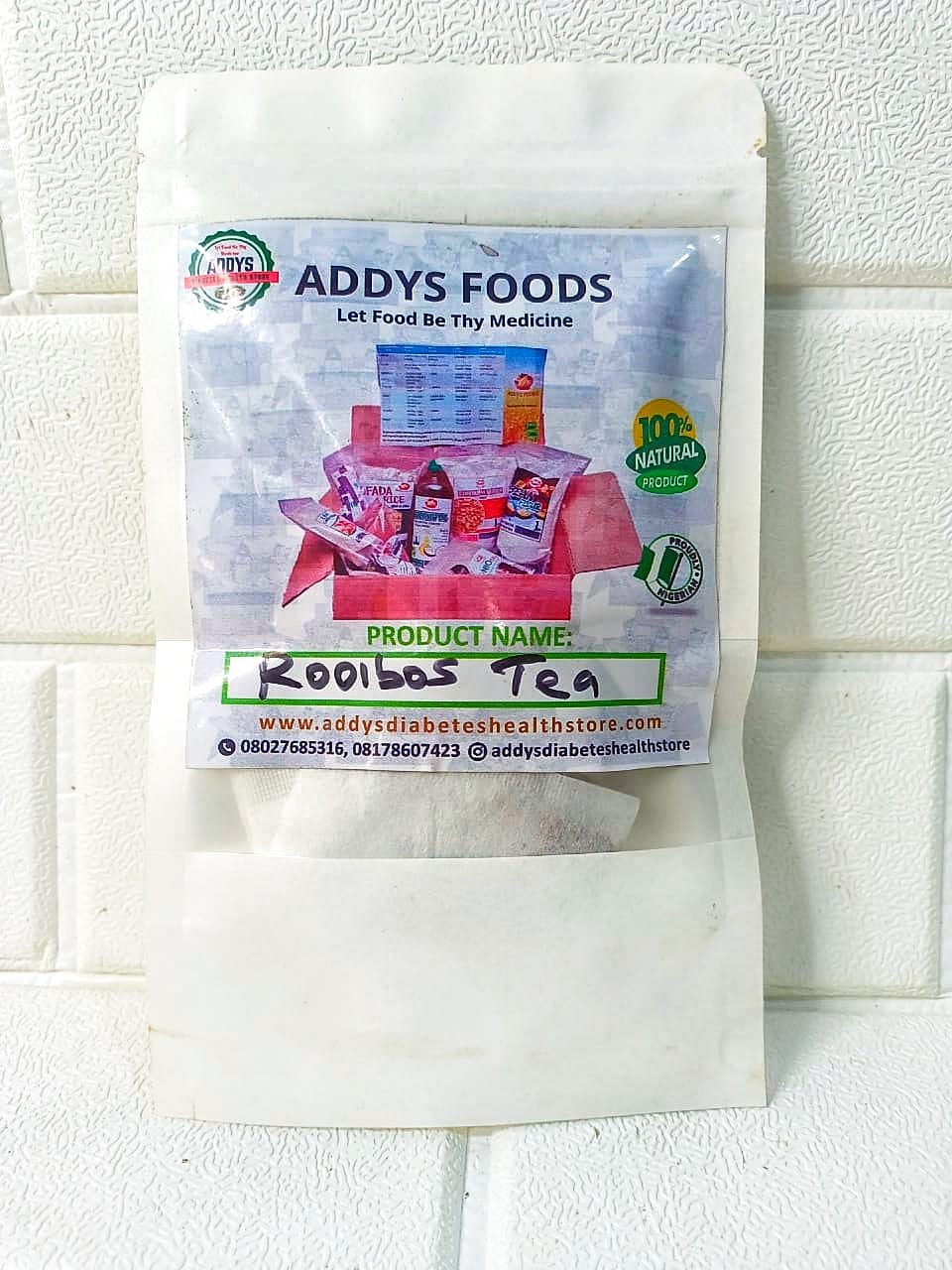 ADDYS ROOIBOS TEA is an anticancer tea that is also effective in diabetes management.
This naturally sweet, and nutty flavor tea contains antioxidants, enzymes, and vital minerals including calcium, iron, magnesium, zinc, and alpha hydroxyl acid.
and chemical compounds that help skin look youthful, reduce inflammation that causes pain, and prevent serious illness.
Rooibos tea is also caffeine-free, making it a good beverage at any time of the day. Thanks to its high concentration of vitamins and polyphenols.
it also contains high levels of vitamin C along with powerful antioxidants such as aspalathin that offer extensive health benefits.
Rooibos tea contains polyphenols that help to fight free radicals, keeping your body healthy and ready to tackle the day.
It Helps Control or Prevent Diabetes. polyphenols in Rooibos Tea work to regulate blood sugar levels and increase glucose tolerance in diabetic mice. it may help decrease insulin resistance and improve symptoms.
Consumption of fermented, traditional rooibos tea significantly improved the lipid profile as well as redox status, both relevant to heart disease, in adults at risk for developing cardiovascular disease.
It helps in weight loss
Helps build strong bones
Supports Heart Health. Rooibos tea is excellent for heart health and helps to keep blood circulation pumping smoothly. Containing the chrysoeriol flavonoid that is a bronchodilator, this compound is also an effective agent for lowering high blood pressure and increasing circulation. The relaxing effects of Rooibos Tea help to open up blood vessels while antioxidants work to lower bad cholesterol and prevent plaque buildup.
Improves Appearance of Skin Rooibos tea contains alpha hydroxy acid, which is one of the main ingredients in skin treatments. Rooibos tea contains superoxide dismutase, which has anti-aging properties and helps to slow down the development of wrinkles.
The tea also stopped the formation of new fat cells and encouraged quicker fat metabolism.
DIRECTION:
Add a tea bag into a cup,
Add in hot boiled water and cover it to brew for about 30 minutes before drinking.
₦ 5,000:00
Only logged in customers who have purchased this product may leave a review.