Chickpeas (500g)
₦3,000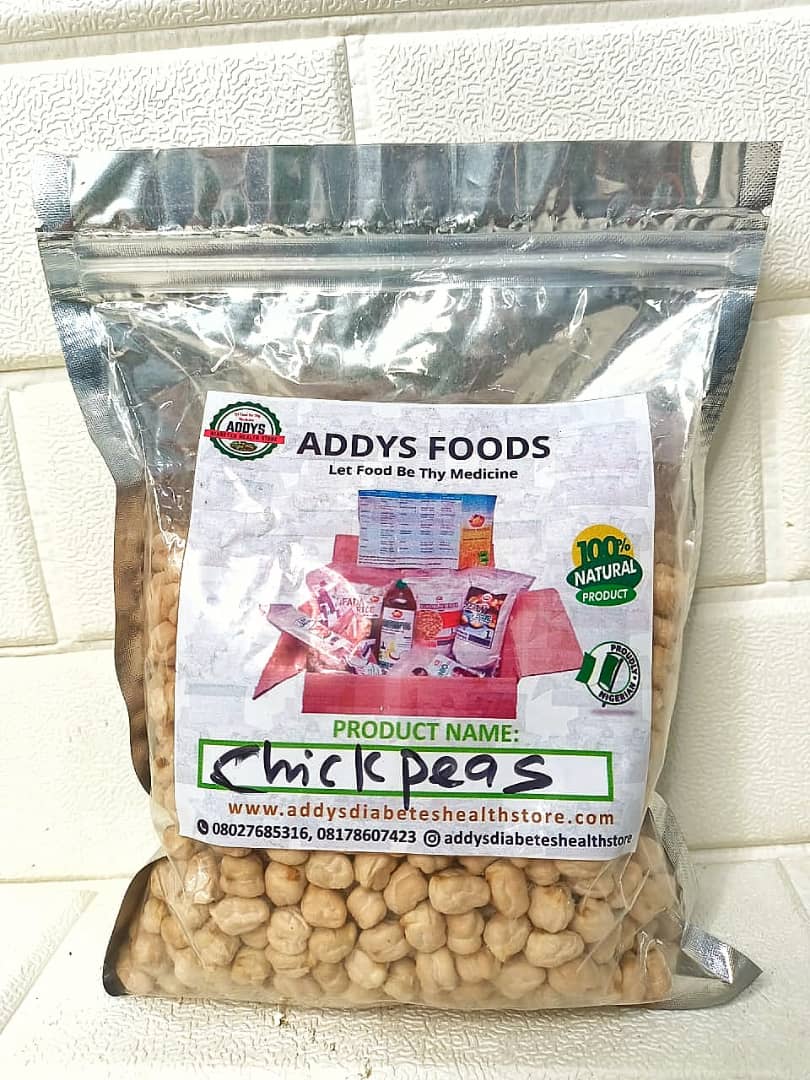 ADDYS CHICKPEAS are leguminous plants packed with plant protein, soluble Fiber, Manganese, Folate (vitamin B9), Copper, Iron, Zinc, Phosphorus, Magnesium, Thiamine, Vitamin B6, Selenium, and Potassium.
They have a nutty taste and grainy texture and therefore pair well with many other foods and ingredients.
THEY SUPPORT BLOOD SUGAR REGULATION. Chickpeas help manage blood sugar levels in several ways:
First, they have a fairly low glycemic index (GI), which is a marker of how rapidly your blood sugar rises after eating a food.
chickpeas' fiber and protein help regulate blood sugar levels. That's because fiber slows carb absorption to promote a steady rise in blood sugar levels rather than a spike.
chickpeas suppressed post-meal increases in blood sugar levels.
THEY AID DIGESTION. Chickpeas are full of fiber, which offers several benefits for digestive health. The fiber in chickpeas is mostly soluble, meaning that it blends with water to form a gel-like substance in your digestive tract.
THEY ARE GREAT SUBSTITUTES FOR MEAT. Chickpeas are a great source of plant-based protein, making them an excellent substitute for meat and other animal products.
WEIGHT MANAGEMENT. The protein and fiber in chickpeas also help promote fullness and keep your appetite under control and so play a role in weight loss by reducing body max index (BMI), lower waist circumference, improve bone health, and muscle strength.
Chickpeas help reduce the risk of several chronic illnesses such as heart disease, cancer, and type 2 diabetes.
BRAIN HEALTH. They are a great source of choline, which plays an important role in brain function and mental health.
Magnesium, selenium, and zinc in chickpeas help protect against depression, anxiety, and nerve function.
They also help prevent iron deficiency.
DIRECTION:
You can boil Chickpeas and use it to make your sauce,
You can add it to your food as a side dish,
You can boil it and  toast it in the oven and have it as snack,
You can also add it to salads.
Out of stock
Only logged in customers who have purchased this product may leave a review.