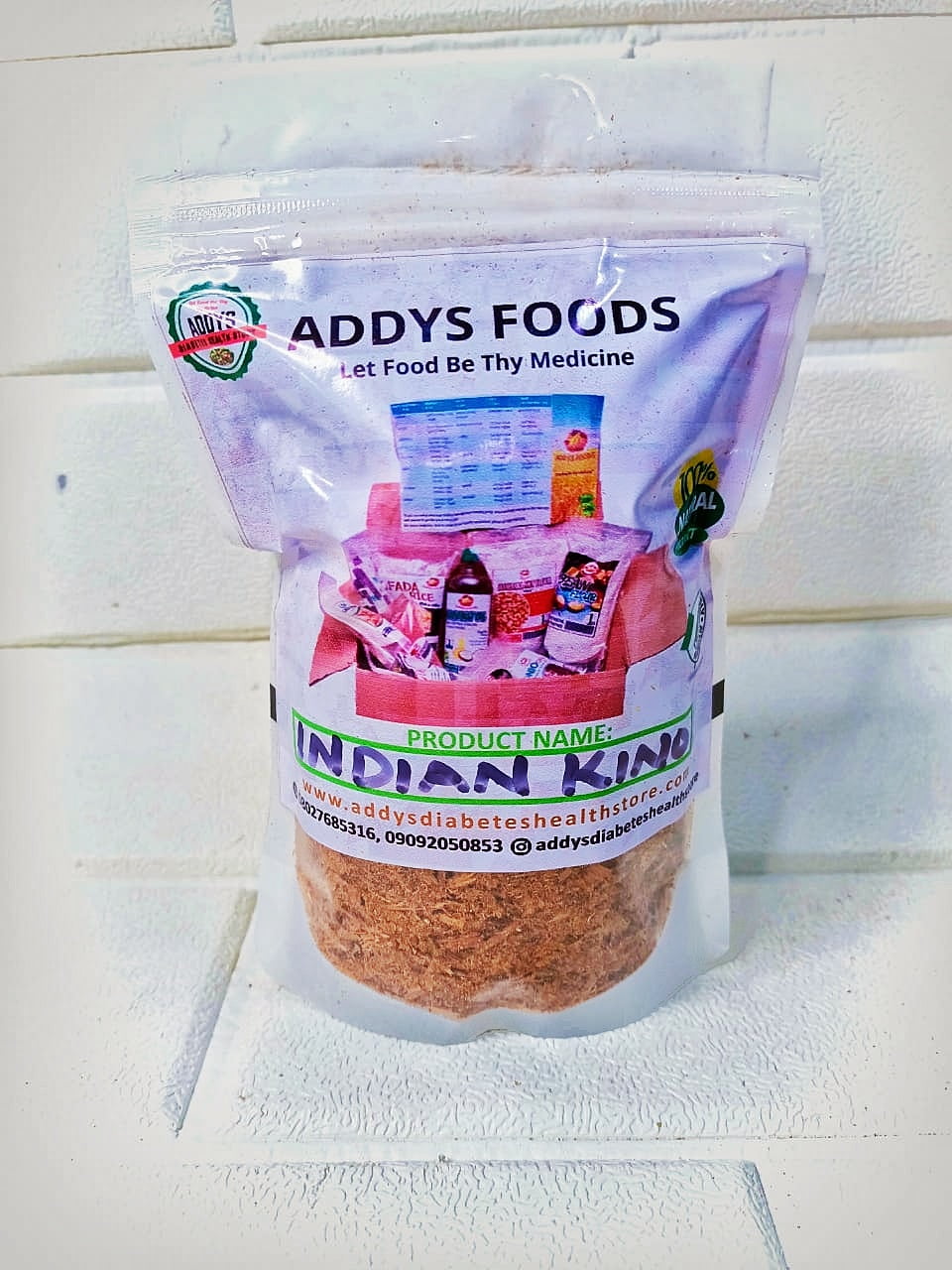 Health Benefits of Addys Indian Kino:
Diabetes Management:

Anti-Glycemic Properties: Addys Indian Kino is renowned for its ability to control diabetes by effectively arresting blood sugar levels. It aids in reducing blood sugar, boosts metabolism, and enhances insulin production, promoting better diabetes control.

Cholesterol Reduction:

Antihyperlipidemic Effects: This herbal extract actively contributes to reducing total bad cholesterol and serum triglyceride levels, supporting cardiovascular health by maintaining healthy lipid levels.

Blood Detoxification:

Rich Source of Organic Compounds: With a rich source of organic compounds, Indian Kino facilitates the detoxification of blood. It works with blood circulation, improving blood flow to various organs and contributing to overall blood purification.

Heart Health:

Cardiovascular Support: Addys Indian Kino is beneficial for heart health, contributing to the overall well-being of the cardiovascular system.

Weight Loss Aid:

Alkaloids and Flavonoids Concentration: The higher concentration of alkaloids and flavonoids in Indian Kino supports weight loss by eliminating toxins, preventing overconsumption, and assisting in maintaining a healthy body weight.

Antibacterial Benefits:

Antimicrobial Properties: The herb exhibits antimicrobial properties, acting against specific bacteria and viruses. This contributes to overall immune health.

Anti-Cancer Effects:

Cell Proliferation Prevention: Indian Kino plays a significant role in preventing cell proliferation and induces apoptotic effects in tumor cell lines, showcasing potential anti-cancer effects.
Directions for Use:
Brewing Instructions:

Add 1 teaspoon of Indian Kino into a pot.
Pour 1 cup of water.
Boil on low heat for 10 minutes.

Consumption:

Sieve and enjoy the herbal infusion 2-3 times daily.
Incorporate Addys Indian Kino into your daily routine to experience its multifaceted health benefits, from diabetes control to cardiovascular support and beyond. Embrace the natural path to well-being with this herbal elixir.